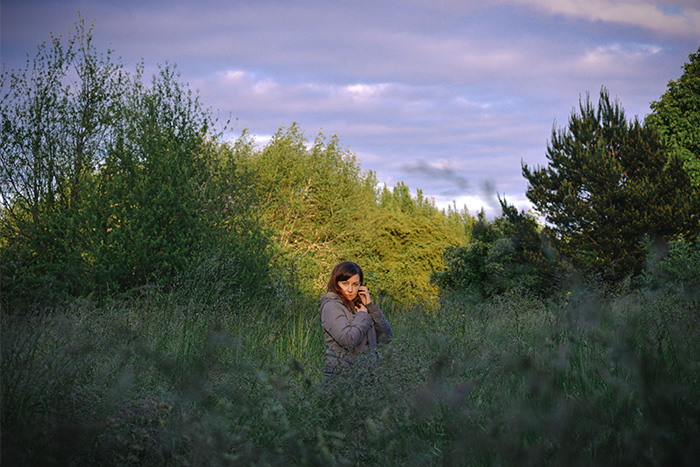 Jen Wood (ジェン・ウッド)
Jen Wood
シアトル出身のシンガー・ソングライター。1992年よりTattle Taleのメンバーとして活動を開始する。
2枚のアルバムを残して解散した後、1996年、単身カリフォルニア州サンタ・クルーズに移住。

そこでギターとヴォーカルだけで数々のポップ・ソングを制作。1997年に自身のレーベルRadar Lightからソロ・デビュー・アルバム『No More Wading』をリリース。同年、ザット・ドッグのヴァイオリニスト、ペトラ・ヘイデンも参加した2ndアルバム『Getting Past The Static』をリリースした後、再び故郷シアトルに戻る。

同年にはさらにTree Recordsよりジョーン・オブ・アークのティム・キンセラとのスプリットEP、そして2000年には同レーベルよりEP「The Uncontainable Light」をリリースしている。
2002年、3rdアルバム『Traveling through Roots』でクアトロ・ディスクより日本デビュー。
2003年にはザ・ポスタル・サーヴィスのアルバム『ギヴ・アップ』に参加。「Nothing Better」でデス・キャブ・フォー・キューティーのベン・ギバードとデュエットし、シングル「Such Great Heights」ではバッキング・ハーモニーを披露している。
2004年、Face Hand Shyよりリリースされた日本限定EP「Jen Wood」を引っさげ、盟友Tomo Nakayamaらと共に来日、二階堂和美をゲストに迎え、全国7公演のツアーを成功させている。

2009年、実に7年ぶりとなる4thアルバム『Finds You In Love』を日本先行でリリース。

その後、2013年に、ザ・ポスタル・サーヴィスの10周年記念再結成公演にゲスト出演するなどのトピックはありつつも、またしても沈黙を守ること5年、ようやく5thアルバム『WILDERNESS』を2014年にリリース。

これまでのアコースティック・ギターを置いて、全曲ピアノを中心に、シアトルの気の置けない仲間たちによる力強いバンド・サウンドを基調にしつつ、デジタルな要素も導入した、これまでの中でもっとも華やかなアルバムとなっている。そして、やはり特筆すべきは、そんなサウンドの中で、益々滋味に溢れ、さらなる表現力の高みに達したジェンの唄声。あくまでもマイペースに、しかし確実に先に進むことをやめない、表現者としての凄みすら感じさせる1枚。くるりの岸田繁からも賛辞を贈られている。

2018年には、PelicanやSunn O)))のメンバーとThis White Lightを結成するなど、相変わらずマイペースながらも、強い音楽愛と信念に基づいた、オリジナルな活動を続けている。
Jen Wood is a singer and songwriter from Seattle. She helped found the band Tattle Tale in 1992.

Tattle Tale broke up following the release of their second album, after which Jen moved to Santa Cruz in California in 1997.

There, she recorded a number of pop songs that only consisted of vocals and guitar. In 1998, she released her first solo album No More Wading under her own record label Radar Light. The same year, she released her second album Getting Past The Static, which featured Petra Haden, the violinist from That Dog. She then returned to her hometown of Seattle.

She also released a split EP with Tim Kinsella from Joan of Arc under the Tree Records label in 1998, and then in 2000, released the EP The Uncontainable Light under the same label.

In 2002, she released her third album Traveling through Roots with Quattro Disc, making her debut in Japan.

In 2003, she featured in the album Give Up by The Postal Service, performing the duet Nothing Better with Ben Gibbard from Death Cab for Cutie and providing backing vocals for the single Such Great Heights.

In 2004, she visited Japan with her friend Tomo Nakayama to promote her EP Jen Wood, a limited edition Japan-only release from Face Hand Shy. Along with guest artist Kazumi Nikaido, they made a nationwide tour with seven successful performances.

After a seven year gap, she released her fourth album Finds You In Love in Japan first in 2009.

Afterwards, she continued to do the occasional performance, such as her guest appearance in The Postal Service's 10th anniversary reunion tour in 2013, but otherwise kept her silence for five years until the release of her fifth album Wilderness in 2014.

For Wilderness, she set aside her trusty acoustic guitar and performed all the songs with a piano instead. Her Seattle comrades provided a powerful keynote sound, to which she added a digital element, making for her most brilliant album to date. Jen's exquisite and highly expressive singing voice stands out in particular. It's an album that meanders along at its own pace, yet moves steadily forward, giving you a sense of her exceptional powers of expression. Shigeru Kishida from Quruli also showered it with praise.

She formed This White Light with members of Pelican and Sunn O))) in 2018, continuing her musical activities at her own pace but doing everything based on her beliefs and powerful love of music.