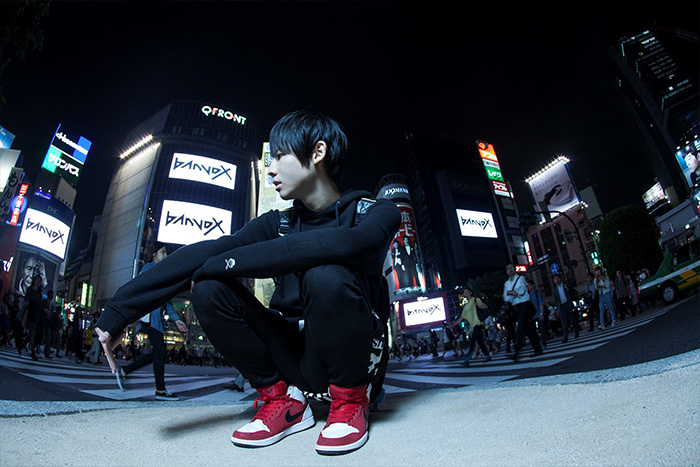 banvox (バンボックス)
banvox
東京を拠点に活動する音楽プロデューサー。
2011年より活動を開始し、インターネットレーベルMaltine Recordsよりリリースしたデビュー作『Intense Electro Disco』が僅か2日間で4,000DLを記録。

2012年に英Surfer Rosa RecordsからリリースしたデジタルEP『INSTINCT DAZZLING STARLIGHT EP』で米ダンス/クラブミュージック配信サイト最大手Beatport 総合チャートで2位獲得という快挙を成し遂げ一躍その名を轟かせる存在となる。その作品群はDavid Guetta やDirtyloud、BBC Asian Network 等に激賞され、以降海外アーティストのリミックスを立て続けに担当。

2014年には"iTunes NEW ARTISTS 2014"に選出され、以降リリースしたシングルはそれぞれiTunes ダンス/エレクトロニックチャートで1位を獲得。4月には自身初となるCD作品『Watch Me Dance』をタワーレコード限定でリリースし同作はレコメンドタイトル"タワレコメン"にも選出。同月開催されたSkrillexの日本でのClub Gigでは共演を果たす。12月にリリースした1stフルアルバム『Don't Wanna Be』はiTunesダンスチャートで1位、総合アルバムチャートで4位を記録した。

その勢いは留まる事を知らず、2015年2月にはGoogle Android CM「じぶんを おもいきり」篇の楽曲プロデュースを担当。同曲はShazamジャパンチャート1位を記録。5月には同曲「Summer / New Style」でワーナーミュージック・ジャパンよりメジャーデビューを果たし、iTunesダンスチャートの1位2位を独占。立て続けにリリースしたEP『At The Moment』では自身初となるMVも公開。11月には2度目となるGoogle Android CM楽曲を担当。同CM曲"Watch Me"はBeatport Dubstep Chart、iTunes Dance Chart、そしてShazam Japan Chartで1位と三冠の快挙を達成。ライブ出演としてはULTRA KOREA、ULTRA EUROPE等海外フェスへの出演。ULTRA KOREAではSkrillexとも再会しパフォーマンスと楽曲を賞賛される。そして7月には国内最大級のフェスティバル、フジロックフェスティバル2015に出演。大晦日にはCOUNT DOWN JAPAN 15/16へも出演し同年を締めくくった。

2016年4月にはモード学園の新CM楽曲プロデュースを担当。5月からは自身のソロ作の連続リリース、そして"Red Bull Summer Edition Music Playlist"へのエクスクルーシブ楽曲提供、さらには米ジャージークラブシーンの第一人者、R3LLとのコラボレーション、『DOWN』がDim Makよりリリース。7月には国内最大級の音楽フェスROCK IN JAPANに、9月には3年連続となるULTRA JAPAN メインステージへの出演を果たす。

2017年2月にはPlayStation®4のゲームタイトルを紹介する動画「PlayStation®4 presents "GO! GO! LINEUP! RAKUGO!"」「"PS4" Lineup Musical 「PLAY!PLAY!PLAY!」」、2作の音楽を立て続けに担当。1作目の"RAKUGO"は公開後1ヶ月で170万再生を記録。そして"Musical"は公開から1ヶ月で200万再生を超える。また、3月にはコンセプトアルバム『Take No Defeat』をリリース。iTunes Japan Chart4位を獲得。さらに同月、TOYOTA T-Value TV Commercial「FIND U-Car 篇」の楽曲「Everlasting」を制作。同YouTubeも公開1ヶ月を待たず100万回を超える再生数を記録している。12月には楽曲が起用された「リポビタンD」のTV CMに自身も出演し、三浦和良選手と共演を果たした。

banvoxの楽曲はThe Chainsmokers、Porter Robinson、Madeon、Getter等、錚々たる海外アーティストによりプレイされ、そのクオリティーの高さを証明している。

banvoxが繰り出す最先端の音楽は海を超え、どこまでも広がり続ける。
A music producer based in Tokyo.
His musical career began in 2011. His debut album, Intense Electro Disco, which was released through the Internet label Maltine Records, was downloaded over 4,000 times in the space of just two days.

His big break came in 2012 when his digital EP Instinct Dazzling Starlight EP, which was released through Surfer Rosa Records (UK), ranked second on Beatport, the world's largest dance/club music streaming website. The EP was praised by many people, including David Guetta, Dirtyloud, and BBC Asian Network, and banvox went on to do even more remixes of overseas artists' tracks afterwards.

In 2014, he was selected for iTunes New Artists 2014, and his following singles topped the iTunes dance and electronic charts. In April, he released his first CD, Watch Me Dance, via Tower Records, and it was selected as a Tower Records Recommended Album. In the same month, he performed with Skrillex at a club gig in Japan. In December, he released his first full album, Don't Wanna Be, which topped the iTunes dance chart and came fourth on the overall chart.

Showing no signs of slowing down, he went on to produce music for a Google Android commercial titled "Jibun wo Omoikiri" in February 2015. The same song topped the Shazam Japan chart. In May, he made his major debut through Warner Music Japan with the songs "Summer" and "New Style", which took the top two spots on the iTunes dance chart. Following that, he released his first music video with the EP At The Moment. In November, he produced music for a second Google Android commercial. The commercial's song, "Watch Me", took the top spots on the Beatport dubstep chart, iTunes dance chart, and Shazam Japan chart. He also performed live at several overseas festivals including Ultra Korea and Ultra Europe. At Ultra Korea, he was reunited with Skrillex, and his performance and music were highly praised. Then, in July, he performed at Japan's largest music festival, Fuji Rock Festival 2015. He ended the year with a New Year's day performance on Count Down Japan 2015/2016.

In April 2016, he produced music for a new commercial for Mode Gakuen. From May, he released a series of solo works, provided exclusive tracks for the Red Bull Summer Edition Music Playlist, and collaborated with R3LL, one of Jersey club's pioneers and breakout stars, to release "Down" through Dim Mak Records. In July, he performed at Rock in Japan, one of the biggest festivals in the country, and in September, he appeared on the main stage of Ultra Japan for the third consecutive year.

In February 2017, he produced songs for two videos introducing PlayStation®4 games: "GO! GO! LINEUP! RAKUGO!" and "PS4 Lineup Musical PLAY!PLAY!PLAY!" Within the first month of their respective releases, RAKUGO was viewed 1.7 million times and Musical was viewed 2 million times. Then, in March, he released his concept album, Take No Defeat, which ranked fourth on the iTunes Japan Chart. In the same month, he also produced the song "Everlasting" for the Toyota T-Value TV commercial "FIND U-Car". This commercial was viewed over 1 million times on YouTube in under a month. In December, he personally appeared on a TV commercial for Lipovitan D with the football player Kazuyoshi Miura.

banvox's music has been played by many prominent overseas artists, including The Chainsmokers, Porter Robinson, Madeon, and Getter, proving its outstanding quality.

banvox's cutting-edge music continues to transcend international boundaries, spreading across the world.